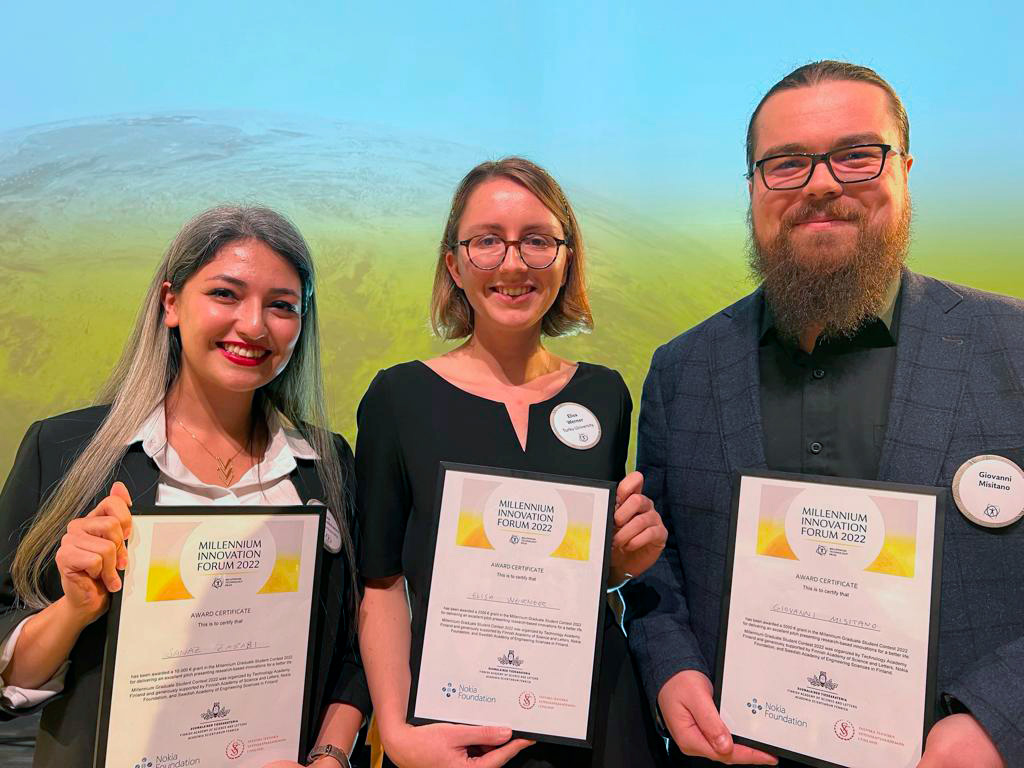 Sanaz Zarabi from Aalto University has won Millennium Graduate Student Contest 2022 with her pitch Inkjet printing, the savior of renewable energy technologies. She was awarded a grant of 10,000€ supported by the Finnish Academy of Science and Letters.
Zarabi's pitch proposes a fabrication method for producing batteries that require less limited resources, such as lithium and graphite, than traditional batteries. In addition, the method can boost electrochemical processes inside the battery's electrode, which greatly enhances battery performance.
"I consider winning this contest one of my biggest achievements so far," Zarabi commented on her victory. Graduate students need these of checkpoints where they get to evaluate themselves. The grant will help me finish with PhD studies and find collaborators to continue my work."
Nokia Foundation provided a 5000€ special grant for the best pitch related to information and communication technology or telecommunications. This was awarded to Giovanni Misitano from the University of Jyväskylä for his fascinating pitch on developing tools for explainable multiobjective optimization. The purpose of the project is to create open-source software tools to aid humans in making decisions that are justifiable to stakeholders and transparent to the public.
Finally, a 2000€ grant from Swedish Academy of Engineering Sciences in Finland was awarded to Elisa Werner from University of Turku. Her pitch project explores the possibilities of the Anabaena microalgae, aiming to create a bioproduction platform that is capable of simultaneously performing reductive biotransformations as well as produce hydrogen in unique microoxic cells.
Millennium Graduate Student Contest participants represented the Millennium Technology Prize partners, the partnering universities, VTT (Technical Research Center of Finland) and the Millennium Innovation Forum event partners. Each contestant was allowed a maximum of three minutes to pitch their research project. The contest was organized by Technology Academy Finland as part of the Millennium Innovation Forum 2022 programme.
The contest began in pre-selection. An interdisciplinary jury chose five finalists based on the pre-selection submissions. The Chair of the jury was Jarmo Hallikas representing Technology Academy Finland, and the other members were Kimmo Kaski (Finnish Academy of Science and Letters), Jukka Rantala (Nokia Foundation) and Sonja Enestam (Swedish Academy of Engineering Sciences). The contest moderator was Nicolaas van Strien (VTT).
The contest recording can be viewed on Yle Areena until 25 November 2022.