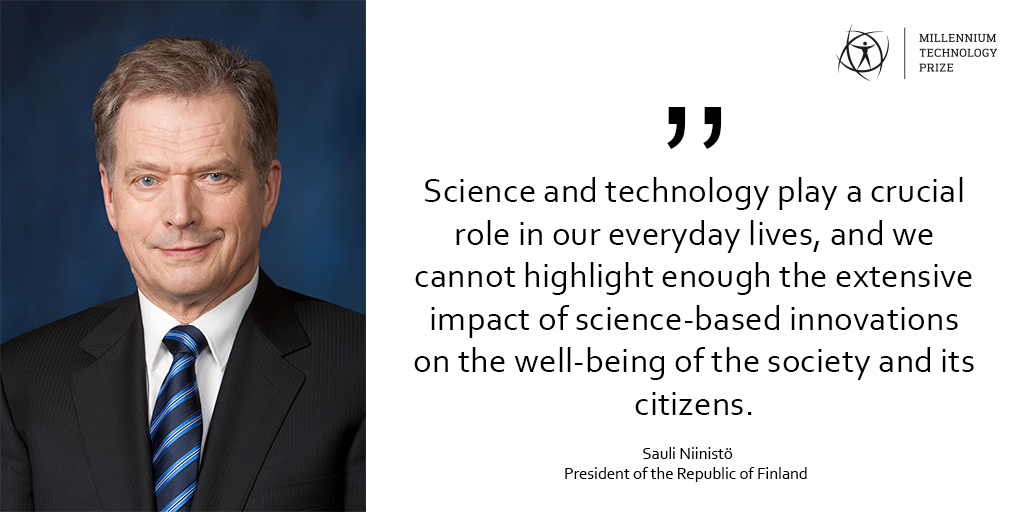 Click the picture of the message to see the official message.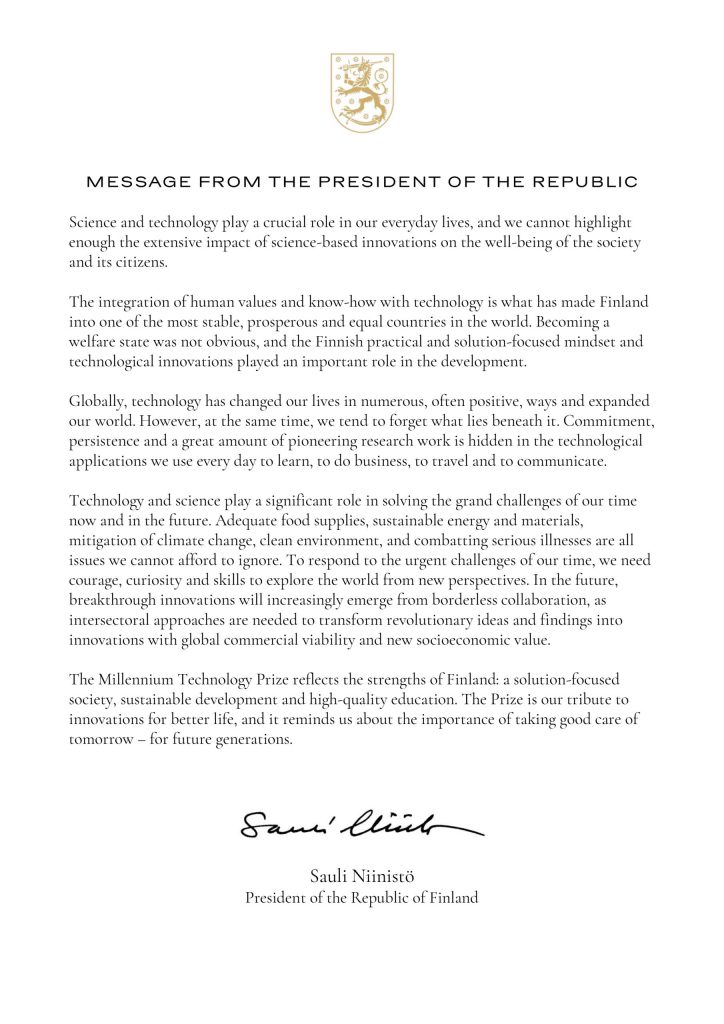 "Science and technology play a crucial role in our everyday lives, and we cannot highlight enough the extensive impact of science-based innovations on the well-being of the society and its citizens.
The integration of human values and know-how with technology is what has made Finland into one of the most stable, prosperous and equal countries in the world. Becoming a welfare state was not obvious, and the Finnish practical and solution-focused mindset and technological innovations played an important role in the development.
Globally, technology has changed our lives in numerous, often positive, ways and expanded our world. However, at the same time, we tend to forget what lies beneath it. Commitment, persistence and a great amount of pioneering research work is hidden in the technological applications we use every day to learn, to do business, to travel and to communicate.
Technology and science play a significant role in solving the grand challenges of our time now and in the future. Adequate food supplies, sustainable energy and materials, mitigation of climate change, clean environment, and combatting serious illnesses are all issues we cannot afford to ignore. To respond to the urgent challenges of our time, we need courage, curiosity and skills to explore the world from new perspectives. In the future, breakthrough innovations will increasingly emerge from borderless collaboration, as intersectoral approaches are needed to transform revolutionary ideas and findings into innovations with global commercial viability and new socioeconomic value.
The Millennium Technology Prize reflects the strengths of Finland: a solution-focused society, sustainable development and high-quality education. The Prize is our tribute to innovations for better life, and it reminds us about the importance of taking good care of tomorrow – for future generations."
Sauli Niinistö
President of the Republic of Finland
You will find The Message from President of the Republic of Finland Sauli Niinistö from page The Prize.