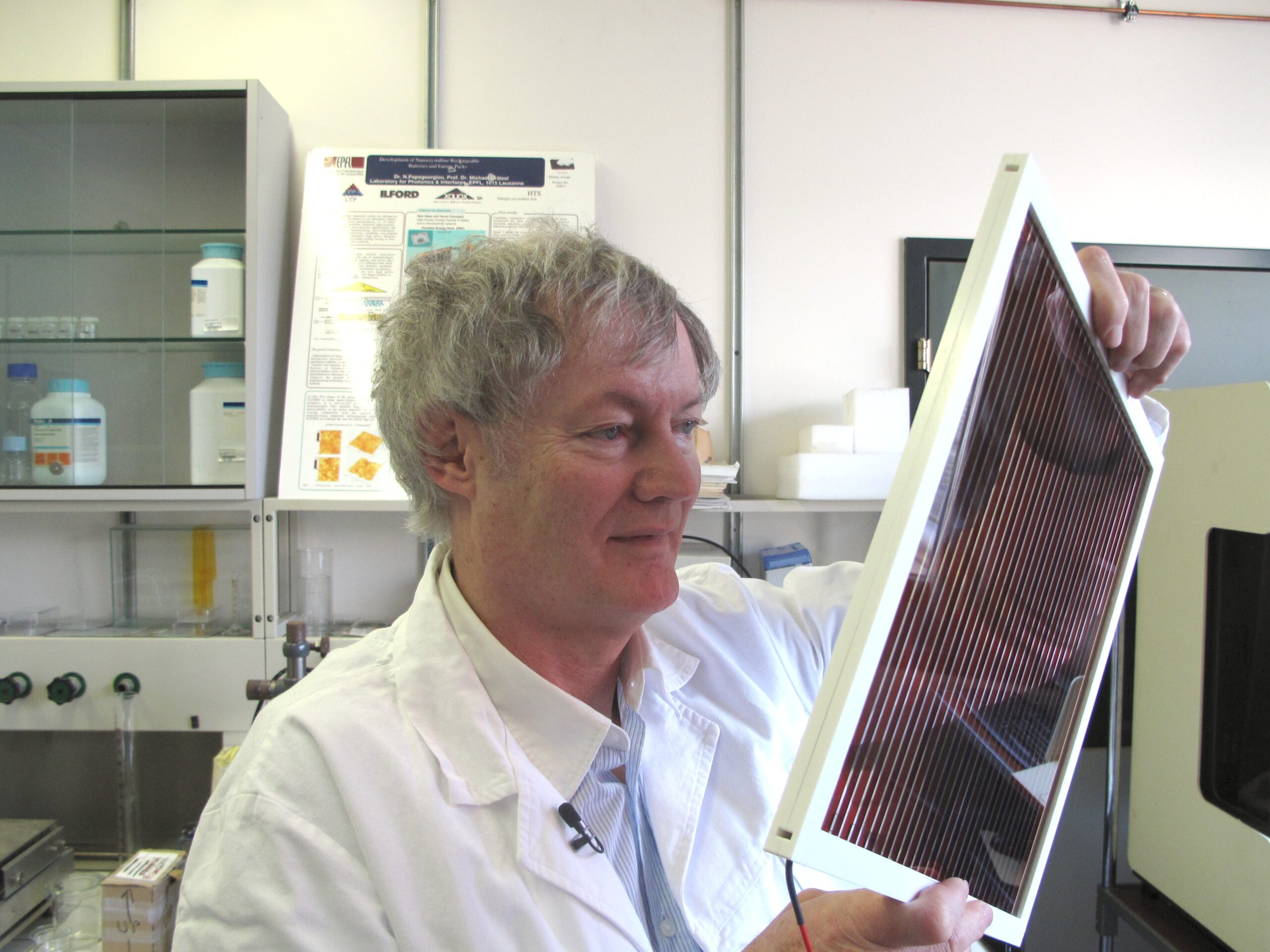 We catch up with Michael Grätzel, the 2010 Millennium Technology Prize winner, to reflect on the impact of the award, his dye-sensitised solar cells invention – and what he has accomplished since.
One of humankind's greatest challenges is to find ways to replace the diminishing fossil fuel supply. Crude oil, coal, and gas, which are the main resources for the world's energy supply are non-sustainable and affect the planet adversely. Scientists have since turned their attention to finding more efficient, sustainable and renewable energy options.
Swiss professor of physical chemistry Michael Grätzel turned to the sun – the most obvious and potent energy source found on earth. He invented third-generation solar cells, or Grätzel cells, that are manufactured from low-cost materials with environmentally friendly methods. They can also be produced without complicated equipment. The cells are lightweight, transparent and flexible.
The landmark paper he published in 1991 had a huge impact in the science world, having been cited some 23,000 times, and ranks by citations among the top 100 papers of all time published across all domains of science.
In 2010, the Millennium Technology Prize selection committee recognised him for the tremendous influence of his work. He intensely recalls the occasion.
"I had received a number of prizes in my career but the Millenium Technology Prize was the most prestigious and most timely, It came at a time when the world was grappling with the effects of the great recession and my work needed a lot of funding. It felt so good to be recognized at that time and to win the cash prize," says , Michael who was able to use the award's prize money to personally build on his research.
The Roots of Grätzel's invention
Grätzel's organic solar cells, invented in 1991 are inspired by living plants and by their photosynthetic processes. Grätzel cells are so simple that anyone can easily make them. Made of titanium dioxide and an organic paint, with a conductive glass substrate, the most efficient of them can turn almost 8% of the light into electricity.
These solar cells generate electricity without the use of a semiconductor. The secret sauce comprises dye nanoparticles perched on titanium oxide nanocrystal particles. The process imitates chlorophyll, a vital component of natural photosynthesis. "Plants use the charge they generate very quickly," Michael explains, which is why you don't get an electric shock every time you touch one.
"I started my research on dye solar cells in the '80s. Solar energy research was still in its early stages at this time. I was curious about the photosynthetic process and wanted to understand how plants could trap energy from the sun with their leaves and then convert them to oxygen and glucose," says Michael, describing the journey to his groundbreaking invention.
"I wondered if we could mimic the same with a porous layer of titanium oxide nanoparticles, and chlorophyll with a molecular dye covering the nanoparticles."
Michael's curiosity has since developed rapidly and has become an important part of future renewable energy sources.
From fossil fuels to renewable solar energy
Although the demand shock caused by the coronavirus pandemic lowered 2020 emissions aggressively, there are significant uncertainties about demand recovery and the future of both fossil fuels and renewables.
If the world fulfils the Paris Agreement's minimal 2°C warming target, fossil fuels will account for around half of the total primary energy supply in 2050, down from about 77% in 2020. Renewables are expected to become more cost-competitive after 2025, implying that they would develop faster in the long run than fossil fuels, particularly in a 2°C scenario.
Solar energy has historically been constrained by its cost. 'Grätzel cells' make solar energy more affordable. Michael's innovation has played a key role in producing low-cost, large-scale renewable energy solutions. The concepts of Grätzel cells can also be applied in batteries and hydrogen production, all important components of future energy needs.
Dye Sensitised-cells in action today.
The discoveries of Michael Grätzel have launched new socio-economic developments in the field of solar electricity and fuel generation as well as in lithium-ion battery technology. He ushered in a new paradigm in the field of photovoltaics.
The world's first exterior architectural integration of this cutting-edge technology is the photovoltaic glass panel that covers the west façade of the SwissTech Convention Centre. The visually stunning 300 m2 installation is a demonstration of the technology's potential as well as the first step toward its widespread production and use.
"Several companies have started production and sales of electric power-producing translucent glass panels based on my dye-sensitised solar cell technology," Michael enthused. "Like bicycle helmets with integrated lights to enhance the visibility of riders. It is so advanced the lights turn on automatically and charge themselves from any light source."
"Technology is the solution to some of the most pressing human issues today, and I'm happy to see my inventions front and centre in producing a sustainable world for future generations," concludes Michael.
The 2022 Millennium Technology Prize will be announced and awarded in Helsinki, Finland on 25 October 2022. The 2022 Millennium Innovation Forum is on 25–26 October 2022.
Follow us on Facebook, LinkedIn, Twitter and Instagram for more information, updates and great content. Or sign up to our newsletter.
An Award-Winning Track Record

Professor Michael Grätzel's 1650 publications have received some 325'000 citations and his h-index is 259 (Web of Science, May 2021). A recent ranking issued by Stanford University places Graetzel in the first position on a list of 100,000 top scientists across all fields.
The Millennium Technology Prize was one of the most prestigious accolades he has received for his work, including:
2021 — BBVA Frontiers of Knowledge Awards in Basic Science.
2020 — Materials Today Innovation Award, USA.
2020 — Diels – Planck Medal and Lecture, Kiel, Germany.
2018 — August Wilhelm von Hofmann Memorial Medal, German Chemical Society.
2017 — Global Energy Prize, St. Petersburg, Russian Confederation.
2017 — Zewail Prize and Medal in Molecular Science. Elsevier.
2017 — RUSNANO Prize, Moscow, Russian Confederation.
2016 — Centenary Prize of the Royal Society of Chemistry (UK )
2016 — Paracelsus Prize and Medal of the Swiss Chemical Society
2016 — Elected Member of the National Academy of Inventors, USA
2015 — Ordre de mérite du canton de Vaud, Switzerland
2015 — King Faisal International Science Prize, Saudi Arabia
2014 — Samson Prime Minister's Prize for Innovation in Alternative Fuels, Israel
2014 — First Leigh-Ann Conn Prize in Renewable Energy, University of Kentucky USA
2013 — Leonardo da Vinci Medal of the European Academy of Science
2013 — Marcel Benoist Prize (Switzerland)
2012 — Albert Einstein World Award of Science, World Cultural Council.
2012 — Swisselectric Research Award
2011 — Wilhelm Exner Medal, Vienna Austria
2011 — Paul Karrer Gold Medal, University of Zurich, Switzerland
2011 — Federation of the European Material Societies (FEMS) Innovation Award.
2011 — Gutenberg Research Award, University of Mainz, Germany
2010 — Galileo Galilei Award, Padova Italy,
2010 — Millenium Technology Grand Prize, Technology Academy Finland
2010 — City of Florence Award of the Italian Chemical Society
2009 — Balzan Prize , Balzan Foundation, Milano, Zurich.
2009 — Galvani Medal of the Italian Chemical Society.
2008 — Harvey Prize in Science and Technology, The Technion Haifa, Israel.
2007 — Received offer (call) on the Kroll endowed Chair, University of Cornell, Itaca,,USA.
2007 — First International Prize, Japanese Society of Coordination Chemistr.y
2006 — World Technology Award in Materials San Francisco, USA .
2005 — Gerischer Prize of the Electrochemical Society.
2005 — Winner, Scientific American Top 50, ranked amongst 50 leading scientists worldwide
2003 — ENI-Italgas Price in Science and Environment.
2002 — IBCInternational Award in Supramolecular Chemistry and Technology.
2001 — Havinga Award, Lecture and Medal, Leiden, The Netherlands.
2001 — Faraday Medal of the Royal Society of Chemistry, United Kingdom.
2000 — European Grand Prix of Innovation and Technology, Monaco.
1998 — Eurel Price of the European Society of Electrical Engineers.
1997 — Calveras Award in Photovoltaics, National Renewable Laboratory Golden, USA.
1993 — Best Publication Award, The American Society of Mechanical Engineers.
1985 — R.A.Plane endowed Chair offered ,Clarkson University, Potsdam USA..
1984 — Japanese Society for the Promotion of Science Fellow, Tokyo, Japan.
1981 — Chair of Physical Chemistry, Free University of Berlin offered.
He is the inventor/co-inventor of over 80 patents.