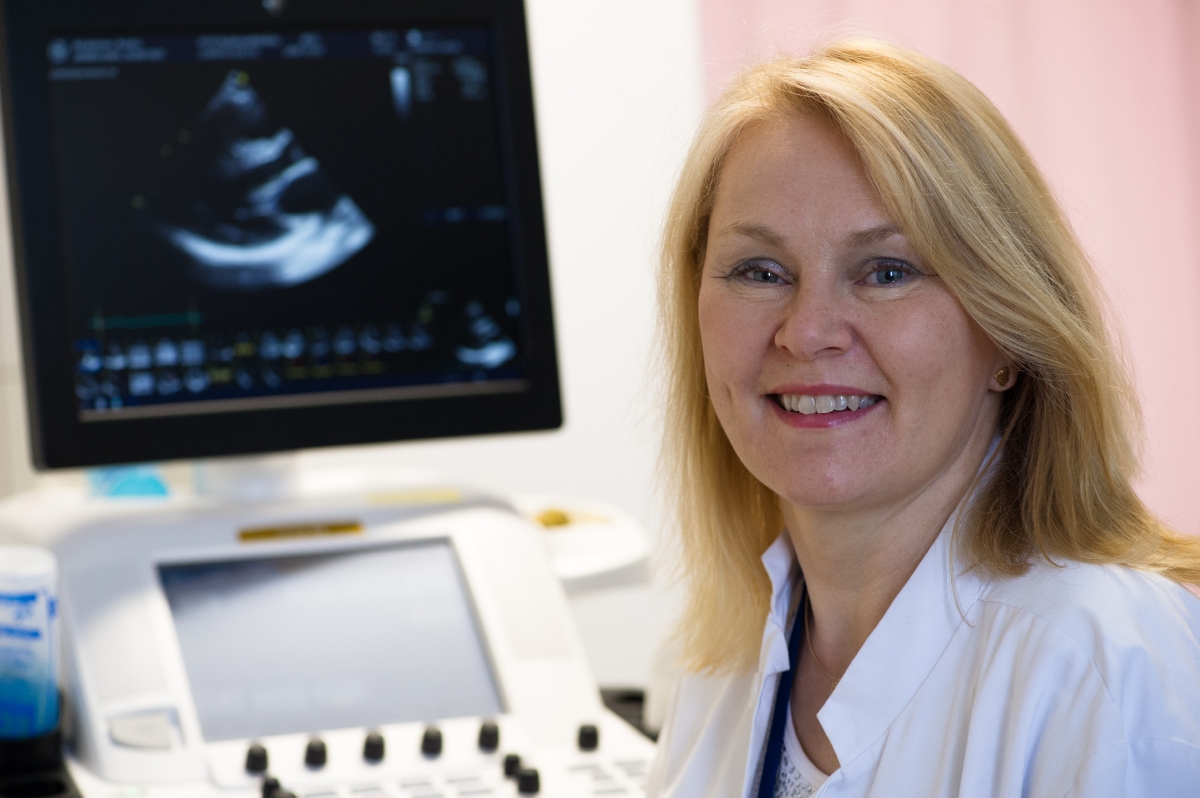 The resulting cells are called induced pluripotent stem (iPS) cells, which can develop into other cell types in the body, apart from placental and foetal membrane cells.
Yamanaka's research has yielded significant results. Stem cells are a major area of medical research as they can be converted into desired cell types. Yamanaka's method also helps avoid ethical problems as it allows researchers to obtain stem cells without the controversial use of embryos. Yamanaka was awarded the Nobel Prize for Physiology or Medicine for his research in 2012.
After Yamanaka's breakthrough, iPS technology has also been used in Finland. One of the researchers using iPS is professor Johanna Kuusisto from the University of Eastern Finland who investigates hypertrophic cardiomyopathy with the help of iPS stem cells.
Hypertrophic cardiomyopathy (HCM) is a hereditary condition where part of the heart thickens.
Acquiring live heart muscle cells for research purposes is understandably extremely difficult, and animal testing may not produce accurate information.
"Animals aren't the same as humans," Kuusisto says when she talks about cell tests.
Kuusisto uses iPS stem cells to produce heart cells with her team.
Led by Kuusisto in professor Markku Laakso's laboratory at the Genome Centre of Eastern Finland, the FinHCM research team has identified four major Finnish mutations that account for more than a quarter of all HCM diagnoses in Finland.
Kuusisto has taken skin samples from patients with hypertrophic cardiomyopathy whose condition is the result of one of the four HCM-causing genetic mutations typical for Finns. She has also taken samples from the patients' relatives who carry the same genetic mutation but do not, for some reason, have the condition.
Fibroblasts collected from the skin samples have been reprogrammed into iPS cells and further into heart muscle cells in professor Jari Koistinaho's laboratory at the University of Eastern Finland.
Meanwhile, professor Pasi Tavi and his research team have characterised the structure and functions of the iPS heart cells of carriers of the HCM-causing gene.
When samples collected from different people are processed in different ways and then compared, the results help shed light on how hypertrophic cardiomyopathy develops – and when it doesn't.
No cure or preventative medication for HCM exists yet
"At the moment, there's no medication that could return thickened heart muscle tissue back to normal," Kuusisto says.
A medication to prevent the onset of HCM cannot be developed until the exact aetiology is known.
In addition to other advances, iPS technology also speeds up the rate at which new medications are found, bringing savings in development costs.
"Heat cells developed with the help of iPS stem cells also provide an efficient tool for testing new medications on heart cells," Kuusisto says.
"The type of research we do is expensive because it takes a long time and requires many researchers. We're extremely happy that we've received funding from the Academy of Finland as it has allowed us to recruit new members to the research team. This funding is crucial for us," Kuusisto says.
Kuusisto adds that the research done in Finland helps find new treatment options for those affected in particular in Finland. In over 25 per cent of hypertrophic cardiomyopathy patients in Finland, the condition is caused by one of the four mutations typical for Finns. These mutations are rarely seen and investigated outside Finland. The funding granted by the Academy is intended especially for the research of these major Finnish mutations.
The research has also been recognised globally. According to the list of Highly Cited Researchers published by the media company Thomson Reuters, based on the number of citations, Kuusisto is one of the world's most influential researchers. The list consists of more than 3,000 researchers from all over the world whose publications have been cited the most in other researchers' research papers between 2004 and 2014. To qualify for the list, a researcher must publish research papers that rank in the top 1 per cent by citations for field and publication year. The list features 16 Finnish researchers, including Johanna Kuusisto.
Original text in Finnish: Visa Noronen
Main photo: University of Eastern Finland
The article was originally published in Finnish by the Academy of Finland on their page tietysti.fi as a part of an article series "Quality of Life with Millennium Innovations".
Read more about Millennium Technology Prize winners
The international Millennium Technology Prize is Finland's tribute to innovations for a better life and sustainable development. The one-million-euro prize highlights the extensive impacts of science and technological innovations on society, even on humanity at large. The next Millennium Technology Prize will be awarded on 22 May 2018.