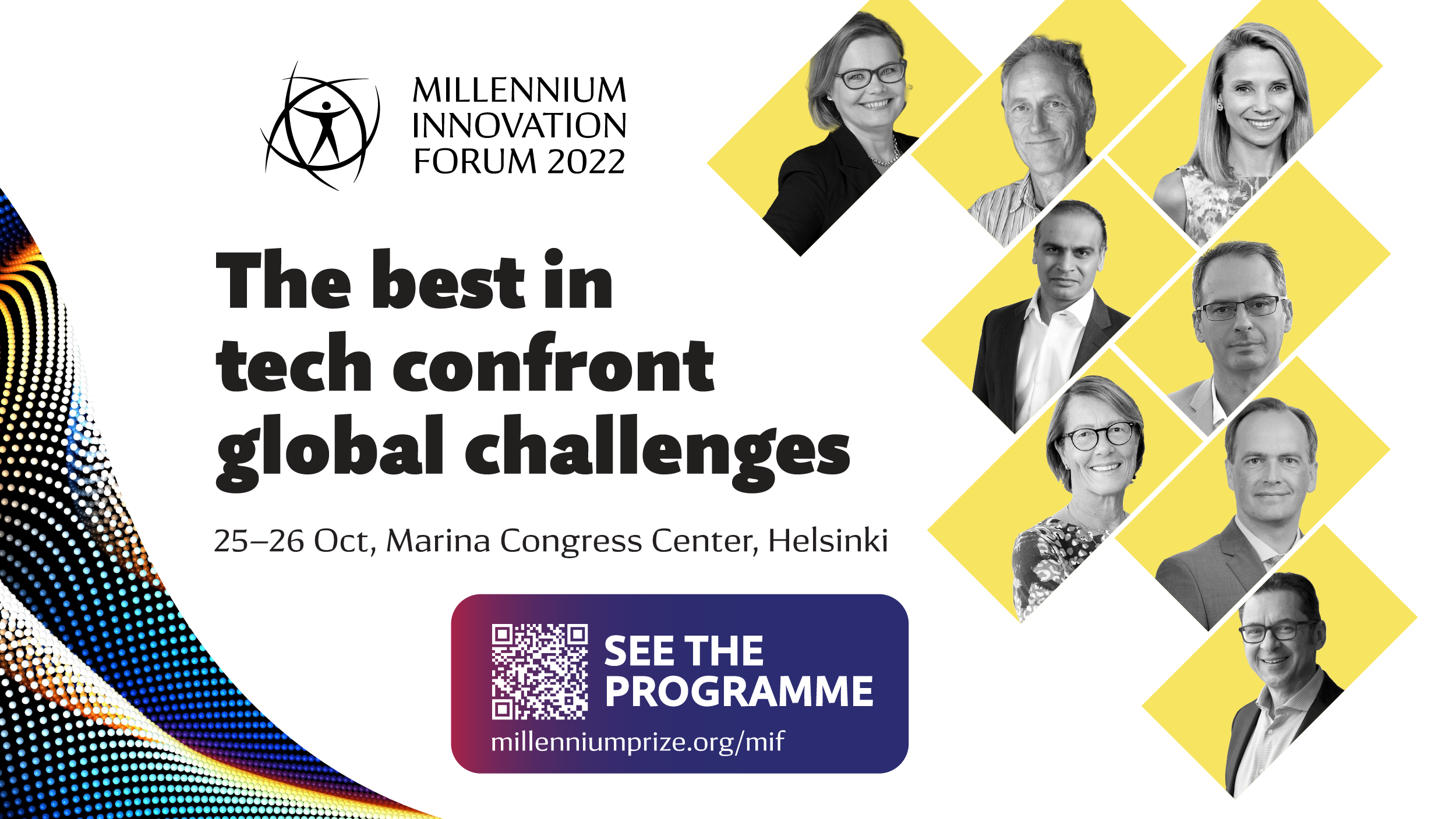 October event in Helsinki to bring together leading investigative journalist Christo Grozev, Google's first female engineer and former CEO of Yahoo, Marissa Mayer, and many others to discuss how technology can help us overcome the world's biggest challenges.
The 2022 Millennium Innovation Forum will host international figures from the media, public sector, business and academia. The Forum will explore how innovation can improve diversity and equality, make greener societies and economies possible, and create a more resilient human race.

There will be a rare appearance by Christo Grozev, Executive Director of Bellingcat, the investigative journalism organisation. He has exposed corruption and malpractice in governments worldwide – including uncovering the poisoners of Russian opposition leader Alexei Navalny and, lately, identifying and recording possible war crimes in Ukraine. His organisation has pioneered the use of technology, such as time-tracked satellite mapping, to show where government violence and destruction has taken place.

Markku Kulmala of the University of Helsinki, the world's most cited researcher in the field of geoscience, will speak on how we can radically change air quality. Marissa Mayer, CEO of innovation company Sunshine and CEO of Yahoo from 2012-2017, will address digitization and New York Times bestselling author and Executive Vice President of engineering corporation KONE, Maciej Kranz, will discuss resilience.

Other speakers include Columbia University infectious diseases epidemiologist Professor Quarraisha Abdool Karim, the Associate Scientific Director of AIDS research organisation CAPRISA, and Tim O'Reilly, CEO of O'Reilly Media in Silicon Valley.
The Millennium Innovation Forum will be hosted by Jason Palmer, editor of The Economist and host of The Intelligence podcast. Attendees will also have the opportunity to attend a session on equality and inclusion in research and development. The session will be hosted by the Government Research and Innovation Council, which is chaired by the Prime Minister of Finland.
Markku Ellilä, CEO of the Technology Academy Finland, which awards the €1 million Millennium Technology Prize, said, "Technology has often had a negative impact on human society and the environment. Through the Millennium Innovation Forum, we aim to show how technology can also be the solution to the most pressing global problems, from preventing wars to ending climate change."

The Millennium Innovation Forum takes place at the Marina Congress Centre, Helsinki, 25-26, October 2022. It coincides with the announcement of the winner of the €1 million Millennium Technology Prize on 25 October, the preeminent international award focused on technological innovations for a better life, including work that improves human well-being, biodiversity and wider sustainability.

Millennium Innovation Forum Early Bird -price is 340e + VAT (normal price 490e + VAT). Early Bird proce is valid until 25.6.2022 and it includes dining. In-person tickets are strictly limited. For further information, including updates on how to participate in the event online, visit millenniumprize.org/events/millennium-innovation-forum/

About the Millennium Technology Prize:
The €1 million Millennium Technology Prize is the preeminent award focused on technological innovations for a better life. This includes work that improves human well-being, biodiversity and wider sustainability. Overseen by the Technology Academy Finland, it was first awarded in 2004 and its patron is the President of the Republic of Finland.
Winners are selected by a distinguished international panel of experts from academia and industry. Innovations must be backed up by rigorous academic and scientific research and fulfil several criteria, including promoting sustainable development and biodiversity, generating applications with commercial viability and creating accessible socio-economic value.
Past winning projects range from DNA sequencing that helped to develop COVID-19 vaccines, to ethical stem-cell research and versatile, affordable smart technology.
Nominations for the award are accepted from all over the world. Due to a change in the rules made this year, the winner cannot be a taxpaying resident of Russia or Belarus.