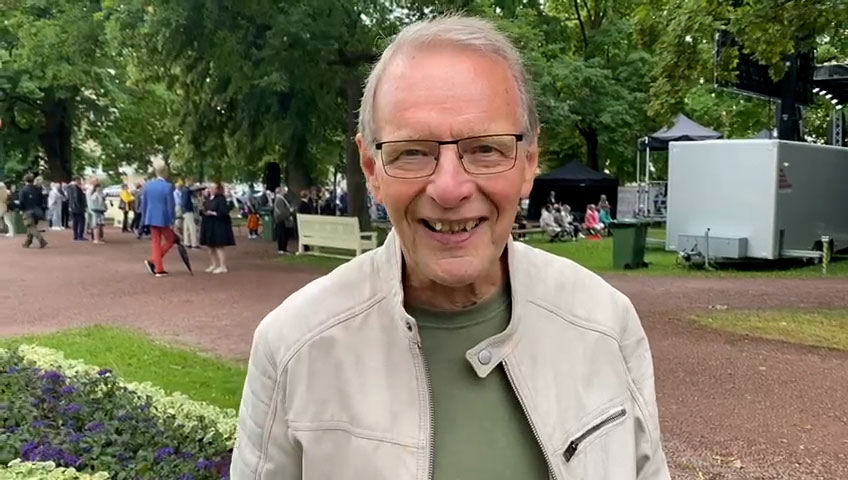 The 2018 Millennium Technology Prize winner, Tuomo Suntola, looks back on his innovation that revolutionised electronics
As today's devices become ever smaller and more portable, it's worth remembering that they owe a huge amount to Tuomo Suntola. The Finn revolutionised technology with the invention of Atomic Layer Deposition (ALD) to create ultra-thin films and material layers for devices ranging from microprocessors and computers to solar panels.

The technology has a long history. Dr Suntola started developing it in the early 1970s, before acquiring international patents for it and enabling its industrial use on a mass scale. But it wasn't until 2018 that Dr Suntola won the Millennium Technology Prize for his ALD innovation – many years overdue, one could argue. He recalls how excited he felt. "I was very delighted, especially because it was over 40 years since I started working on ALD," he beams. "I think here were several other worthy nominees. That made it extra special."
The unexpected birth of ALD technology
For such a groundbreaking piece of work, the circumstances surrounding the creation of ALD were somewhat unconventional.
In 1974, Instrumentarium Oy, a Finnish medical technology company, had asked Suntola, a young physicist, to set up a research and development team to come up with some new devices. With the laboratory still under construction and just a periodic table of elements on the wall, Suntola found himself at a bit of a loose end for his first few months at the company.
"I didn't have any tools available," he says. "I was forced to spend my time thinking. But we must learn to stop for a while, listen to ourselves, and understand the nature and importance of things if we ever want to create anything worthwhile!" And so it was during this quiet time that he developed his ALD masterplan before starting out on developing it properly.
Uses of ALD in the latest technology
The world we know today would not be possible without ALD. As well as consumer electronics, ALD films are used in sensors, LEDs and microelectromechanical systems, manufacturing optics and optoelectronics. They are also used in anti-tarnishing and corrosion protection, and renewable energy applications such as solar power.

ALD offers solutions for energy storage and production, such as advanced thin film batteries and fuel cells. The films are found, too, in medical devices and implants, ecological packaging materials, decorative coatings, and hydrophobic coatings.
Suntola is still thrilled to see his invention at the heart of so many 21st century applications.
"If I was told 50 years ago that ALD will someday be used in so many different ways today – a part of our everyday life – I would have laughed it off. It would have felt like science fiction; something from a movie. If you ask me what ALD will be used for in the future, it's hard to say."
How ALD boosts sustainability
Because ALD has helped make devices powerful yet using less material, Suntola believes it's an invention that "screams sustainability".
"If we can design things to be smaller, we use less energy using them. Think about a microprocessor, which has a surface area about your thumbnail, but houses more than 10 billion transistors – thanks to ALD. "
Looking back on the ALD legacy
After developing ALD, Suntola became a part owner in Picosun Oy, which provides ALD services worldwide. He left his position at Picosun Oy in June 2022, when the company was sold to Applied Materials, Inc. The business continues to operate in Finland as "Picosun Oy, An Applied Materials Company".
Now 79 years old, Suntola has completed his work on the ALD, but is still actively involved in scientific activities with the fundamentals of physics and the philosophy of science.
He believes that technology in the right hands can be a very great force for good. He also feels that the greatest skill he developed in his life was the ability to question everything. "In Aristotle's Metaphysics, he opens with the line: 'All men by nature desire to know'. This is true, but I also believe that not all men go about this the right way. My biggest advice to young scientists is still: stop for a while, listen to yourself and ask the right questions."
The 2022 Millennium Technology Prize will be announced and awarded in Helsinki, Finland on 25 October 2022. Millennium Innovation Forum 2022, a conference celebrating the prize, is held on 25–26 October 2022.
Follow us on Facebook, LinkedIn, Twitter and Instagram for more information, updates and great content. You can also sign up to our newsletter.
Awards and accolades
1978 – Award for Invention of Humidity Sensor, The Foundation for Finnish Inventions
1980 – Outstanding Paper Award for Atomic Layer Epitaxy for Producing EL Thin Films, Society for Information Displays, US
1981 – Honorary Award for The Development of Manufacturing Technology for Electroluminescent Display Devices, The Finnish Foundation for Technology Promotion
1985 – The Finnish Engineering Achievement Award for Electroluminescent Display Technology, Engineering Society in Finland
2001 – Order of the Lion of Finland – Knight 1st Class
2004 – European SEMI Award
2018 – Millennium Technology Prize, Technology Academy Finland (TAF)