‹ Back to News & articles
Millennium Youth Prize winners' solution improves self-sufficiency by combining bokashi and biochar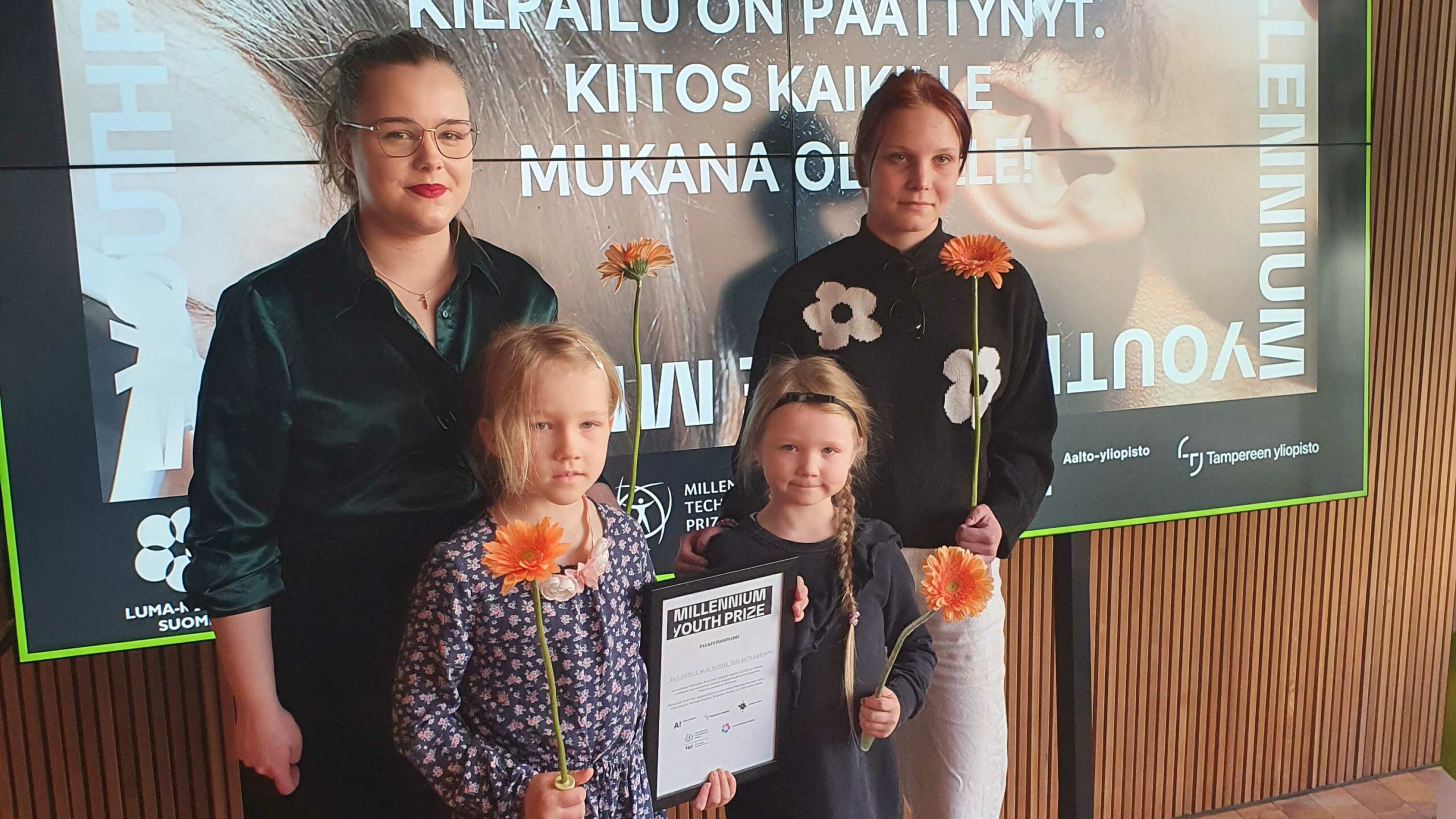 A team of junior high school students and kindergarteners won the Millennium Youth Prize in a very even contest final in Helsinki, Finland. In their winning work, the team experimented on the fabrication of biochar, combined it with bokashi composting, and researched ways to bring the solution as well as the necessary equipment to developing countries.
"We did the work, we came here, and apparently we won!" said Ella Kauppila and Wilma Nylander, surprised after winning the Millennium Youth Prize.
Kauppila and Nylander from Ylikiiminki junior high school won the grand prize of 5000 euros together with Vilja Runtti and Liisa Vimpari from Piilometsä kindergarten. The team had worked together with their teachers to come up with a set of circular economy solutions for improving self-sufficiency in households. The team learned how to produce biochar and combine it with bokashi composting to produce fertile soil in an inexpensive, efficient and ecological way. They also proposed a way to bring the method and the necessary equipment to developing countries.
The winning work was chosen by the jury for its imagination, creativity, innovation, and practical implementation as well as research design and extraordinary description. The winning work responds to the need for sustainable solutions for future generations.
Runner-up teams won with sustainable alternatives
The Millennium Youth Prize contest gathered five best teams to battle in a pitching event in front of a jury consisting of professors from the supporting universities and a representative from Vaisala, a Millennium Technology Prize partner. The participating projects were so evenly matched that it was a challenge for the jury to choose the winners.
The team from Otaniemi upper secondary school came second with their solution of using kombucha mushroom as a future biomaterial. Team members Ida Aulaskoski, Elina Ruha, Laura Pihlaja, Beata Kaukolinna and Xie Li were awarded 3000 euros for their great description on the research design and results as well as extraordinary practicality.
Joona Aalto, Rasmus Pouta and Anton Heimola from Helsinki Upper Secondary School of Natural Sciences came third and won 2000 euros. Their work offered alternatives for lithium-ion batteries and was judged by its excellent theme and comprehensive use of sources.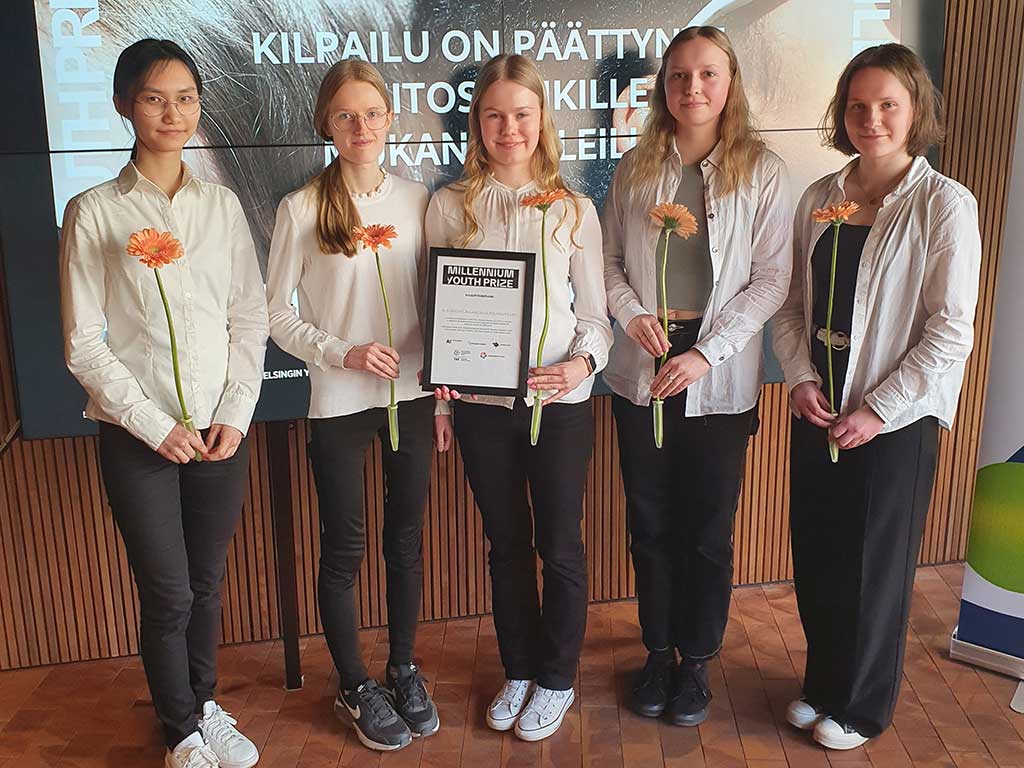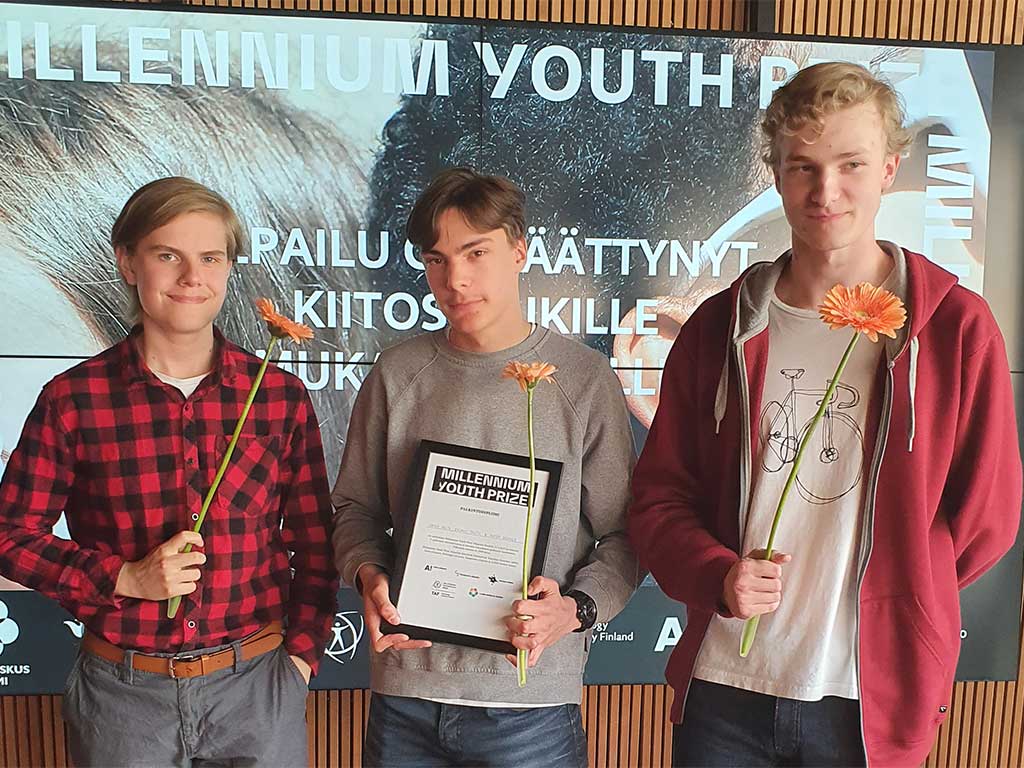 Millennium Youth Prize
Millennium Youth Prize is a challenge-based contest for innovators aged 19 and younger, inspired by the global one-million-euro Millennium Technology Prize. The competition aims to inspire youth to study and work in the field of technology and innovation.
Technology Academy Finland organised the Millennium Youth Prize contest for the 4th time, first time as a nationwide collaboration with Aalto University, University of Helsinki, Tampere University and science education network LUMA Centre Finland.
Professors from Aalto University, University of Helsinki, and Tampere University each presented a challenge related to global sustainability for the contestants to solve. In addition to cash prizes for the three winning teams, the grand prize winner will also have the opportunity to meet the 2022 Millennium Technology Prize Winner.
Inquiries
Noora Ervelius
Prize Development Specialist